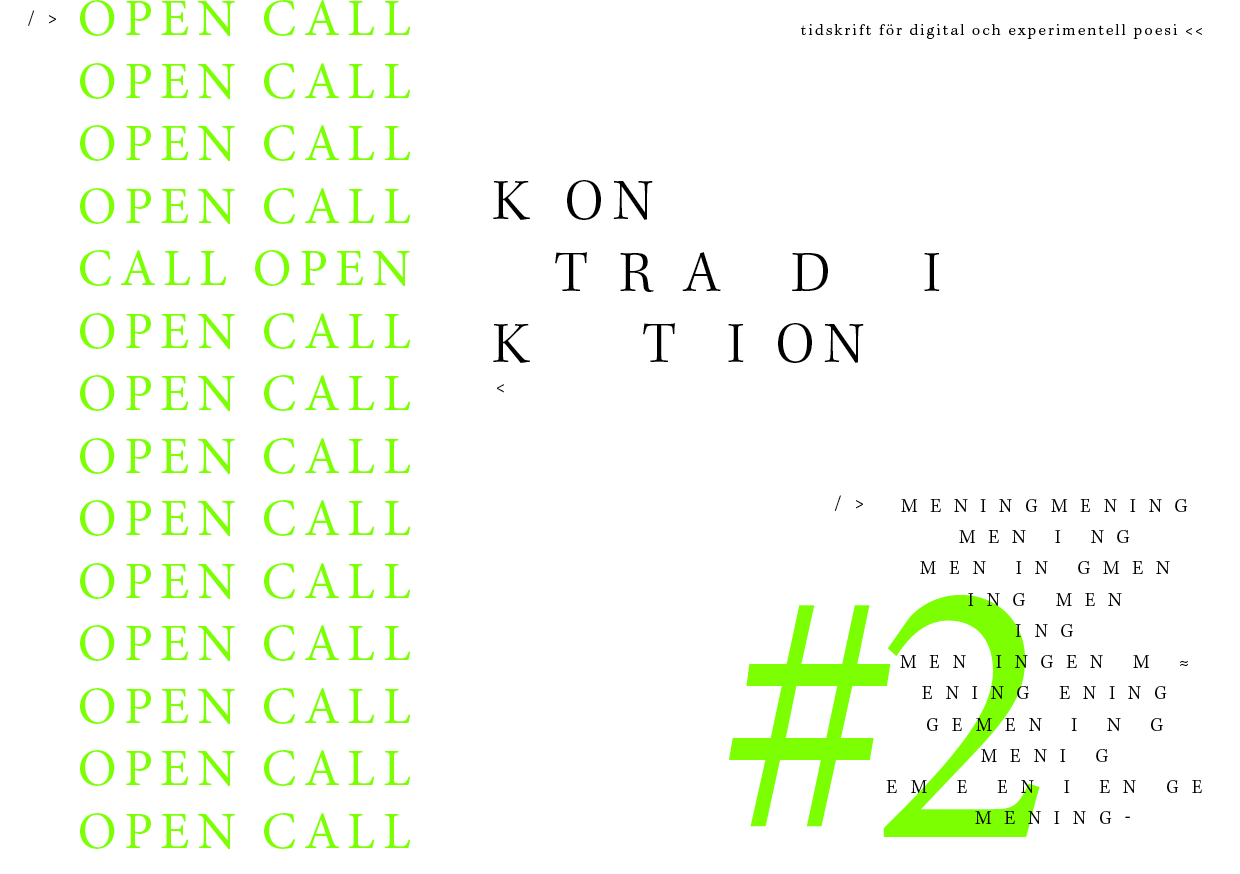 Nu söker Kontradiktion verk för #2: MENING. Chefredaktörer för numret är Hilda Forss och Heidi von Wright.
Vi vill lyfta fram både nya och äldre verk i ett sammanhang som ger synlighet till och öppnar för diskussion kring den tvärkonstnärliga poesin. Därför söker vi nu:
2) konstnärer från olika fält som tillsammans vill skapa något helt nytt. Du kan vara poet, programmerare, fotograf eller varför inte marinbiolog – så länge du har intresse av att skapa med någon annan. Vi vill bara ha en kort presentation av dig och vilket slags samarbete du kunde tänka dig.
3) artiklar och essäer om digital, visuell och experimentell poesi och litteratur.
Skicka in förslag och abstract till Hilda och Heidi på hoj@kontradiktion.fi
Senast den 28 maj 2023 vill vi ha förslag. Vi meddelar senast 15 juni vilka vi går vidare med och deadline för färdiga verk är på hösten.
Ett arvode betalas för samtliga verk som lyfts fram i tidskriften.
Kontradiktion är en e-tidskrift med fokus på finlandssvensk och nordisk digital, visuell och experimentell poesi. Hilda Forss och Jolin Slotte är grundare för tidskriften. Projektet har fått stöd av Svenska kulturfonden.
—–
Kontradiktion #2: Meaning
Kontradiktion, Nordic online magazine for digital and experimental poetry and literature, is looking for contributors for its second issue, themed Meaning. We are looking for:
1) artworks, such as animated poetry, hypertext fiction, digital or visual poetry. We define the term poetry broadly and are especially excited about works that are experimental in regards to form and medium.
2) artists interested in collaboration: we invite creators from different fields to collaborate and create something new. You might be a Nordics-based poet, programmer, photographer or perhaps a marine biologist – as long as you are interested in thinking creatively together with another artist and make something new. Just send us a short presentation of who you are and potentially what kind of collaboration you are interested in.
3) articles and essays on digital, visual and experimental poetry and literature.
Kontradiktion's main languages are the Scandinavian languages (Swedish / Danish / Norwegian), but we are happy to accept proposals for works in other languages from artists who are based in or connected to the Nordic countries. Please send your proposal or abstract by May 28 2023 to hoj@kontradiktion.fi. By June 15 we will contact selected artists and the final deadline for works will be in the fall of 2023.
The published works will receive monetary compensation.